The Aphrodite's Journey to Elysium
Coming to you straight from the Elysium's Astria Bar, these Aphrodite-inspired cocktails are carefully crafted by our in-house mixologists and inspired by the various legends that surround the myth of Aphrodite. Their aim was to create a variety of cocktail flavours that reflect the various aspects of these myths, from love and beauty to happiness and pleasure. Now, you can take your taste buds on a magical mythological journey, right from the comfort of your own home.

Aphrodite's Journey Cocktails: 'The Reward'
This is a real treat for whiskey lovers! Jameson, Amaro and Lagavulin come together to form a great partnership as the cocktail base, further united with three house cordials: ginger, tamarind and cream soda. Fresh lime juice, Orinoco bitters and a splash of soda give this cocktail its final charge of energy, making it a real reward!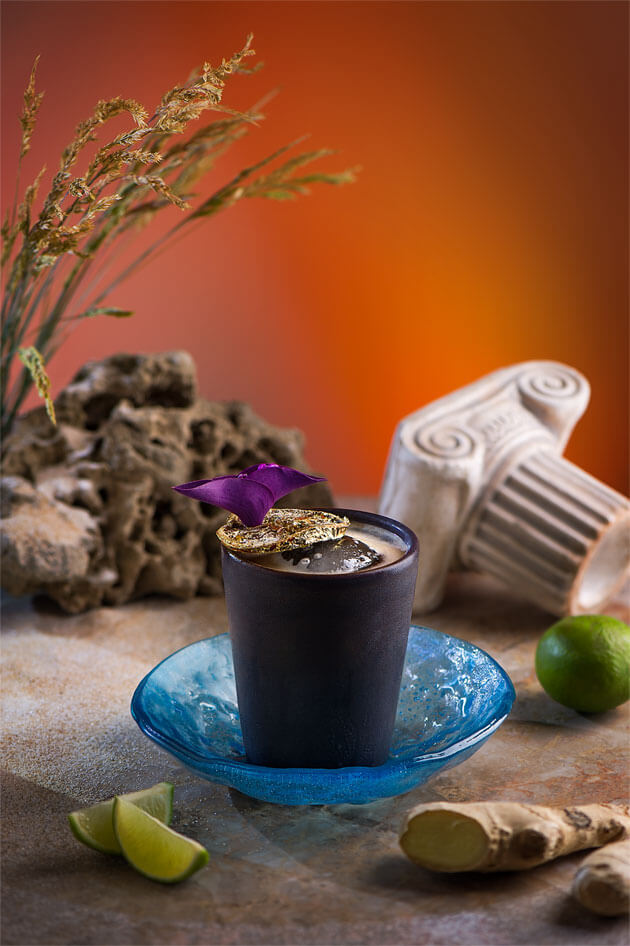 Ingredients
3 cl. Jamesons
1cl. Ramazoti Amaro
1 cl. Lagavulin 16
3 cl. fresh lime juice
1 cl. cream soda Cordial
Dash tamarind Cordial
2 dash Angostura Bitters
10 cl. soda (top up)

Method
Shake & strain into glass with ice ball

Garnish
Caramelised orange with purple flower from veranda

The Story of Aphrodite's Husband
Queen of the Olympians, Hera, is said to have cast her own son, Hephaestus, out of Olympus, horrified by his physical deformities. In gaining his revenge, Hephaestus gifted Hera with a magical golden throne, which did not allow her to stand up once having sat down. The mythology describes how Hephaestus was only convinced to release Hera from the trap when he was offered Aphrodite's hand in marriage by the King of the Olympians, Zeus.