Game Season at Ristorante Locatelli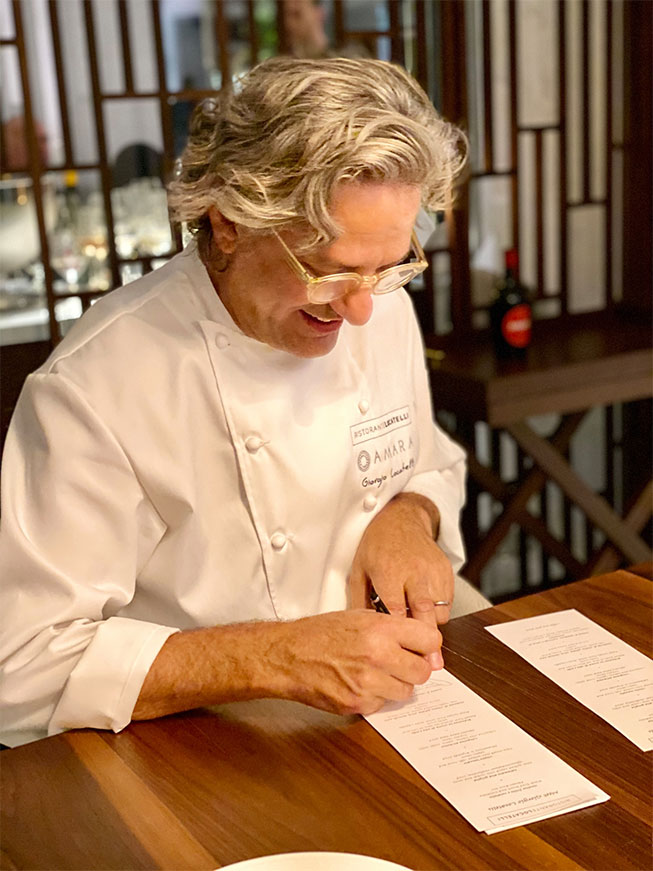 For Giorgio Locatelli, feeding and nourishing people is the first sign of a warm welcome. Whether you are rich or poor, cooking a meal for someone is the essence of conviviality; that deep pleasure that comes from sharing a meal with loved ones. Ristorante Locatelli exemplifies this spirit of conviviality, and shares it with guests, inviting game enthusiasts - and beyond - to sample its highly curated and limited edition 'Game Season' menu. Explore the special à la carte menu and pair it with an Italian wine perfectly selected by our sommelier. Or, discover the updated Autumn menu full of new flavours, prepared to the highest of standards.
"Game Season" À La Carte Menu
Uovo cotto a bassa temperatura e fegatini D, G
Slow cooked egg, duck liver foam
€12
Anatra affumicata e sedano rapa A,D,G,O,P
Smoked duck breast and celeriac remoulade
€18.00
Pappardelle al ragu di lepere e cioccolato A,B,D,G,P
Homemade ribbon shaped pasta, hare ragu, dark chocolate
€30.00
Cervo, radicchio, funghi e crema fritta A,B,D,G,O,P
Red wine marinated venison, wild mushrooms,radicchio and fried cream
€38.00
Fonduta di formaggio e sformato di pane alla birra B,D,G,L,V
Beer bread and cheese fondue
€12.00
The "Game Season" à la carte menu will be available until November 5th, 2020.
Make your reservation here.