Celebrating "Conviviality"
Giorgio Locatelli's perfect Christmas recipe
"Christmas is more than a lunch to me. When I choose a menu, I think about what is going to make people feel comfortable and settled. This is why I chose to share with you a recipe that is very dear to me, because it reminds me of when I was younger and we'd get together with our cousins and have a big Christmas dinner with the family. It was a cornucopia – everyone contributed the dish they did best. It felt very joyous, and I never saw anybody stress about cooking.
To start the preparations, it's important to think about the amount of time and capacity you have to cook. If you're stressed about your cooking, people are not going to enjoy it. Acting natural and creating the simplest things that you can produce, always works best. If you are relaxed about what is happening, then your guests and family will be relaxed, and that's what I think Christmas is all about."

Stuffed Capon(serves 6)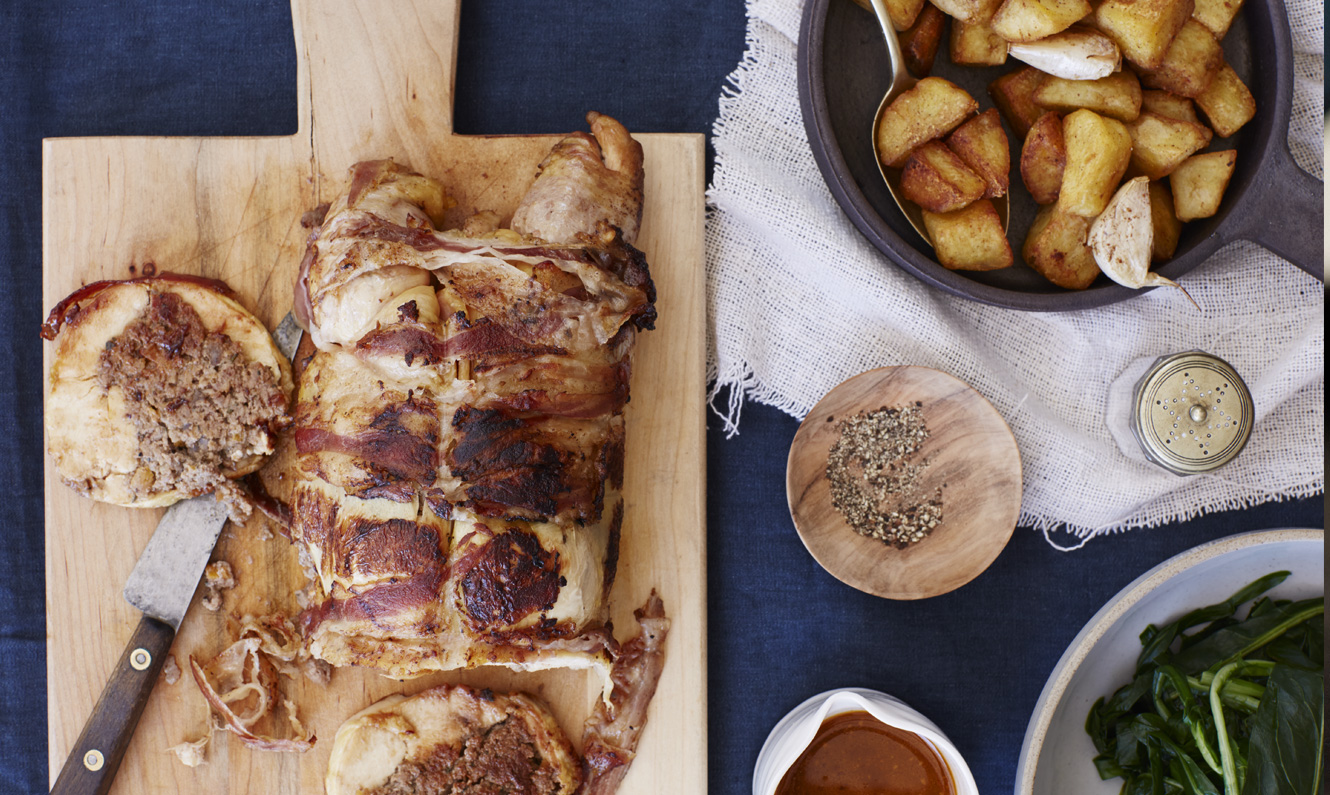 Ingredients:
One large chicken (2.5kg), free range, preferably organic
4 slices pancetta
1 large carrot, chopped
1 celery stalk, chopped
1 celery, chopped
2 garlic cloves
1 sprig fresh rosemary
1 bay leaf
4 tablespoons olive oil
200ml white wine
2 liters chicken stock
For the stuffing:
Olive oil
1 onion, finely chopped
100g chicken livers
Sea salt and freshly ground black pepper
70ml (1 glass) Marsala
400g good pork sausage meat
100g vacuum-packed chestnuts, finely chopped
60g dried apricots, soaked in water for 45 minutes to 1 hour, then finely chopped
50g dried porcini, soaked in warm water for 3 hours, then finely chopped
2 slices of white bread soaked in just enough milk to soften
2 tablespoons grated Parmesan
1 egg
1 tablespoon finely chopped fresh rosemary and sage, mixed together
"I didn't realise until after I made it that I had used all the same flavours as the stuffing my grandmother used to makeduring winter.
Chestnuts were very much a part our life when I was little; we'd collect them and boil them and then dry them. We also had a fantastic apricot tree. Some of the fruit would be picked early and dried in the sun. We went mushroom hunting practically every day after school with my grandad, and in the autumn, we'd dry the porcini. And then you have the usual bread and parmesan – very important; rosemary and sage, which grew in our garden so they would be used in every stuffing. Finally, there's no Christmas without a bottle of Marsala."

Step by step:
Preheat the oven to 180°C/gas 4.
To make the stuffing, heat a little bit of olive oil in a pan, add the onion and cook gently until soft and translucent.
Add the chicken livers, season them, and cook until they start to caramelise.
Add the Marsala and allow it to bubble in order for the alcohol to evaporate, then lift out the livers onto a chopping board and chop finely. Leave to cool.
In a large bowl, mix all the remaining ingredients for the stuffing and stir in the cooled chicken livers.
Lay the chicken skin side down, season, and spoon the stuffing down the centre.
Bring the sides of the chicken over the top, then roll it over so that it is breast side up.
Lay the slices of pancetta over the top and then tie up with butcher's string. Tie it lengthways first then crossways, knotting the string every 2 cm.
Season the chicken all over.
Scatter the vegetables, garlic and herbs across the base of a roasting tin.
Put in the chicken and drizzle with the olive oil.
Roast for 2 hours, pouring over the white wine after 20 minutes. After that, baste the chicken by pouring a ladleful of chicken stock over the bird every 15 minutes. Keep a little stock back in case you need it to thin the sauce later.
To check that the chicken is cooked, insert a skewer into the centre. It should come out hot and the juices should run clear. If using a meat thermometer, the centre of the meat should be above 60°C.
Remove from the oven, lift the chicken on to a large, hot serving plate and leave to rest for 15 minutes.
Meanwhile, transfer the vegetables, herbs and the sauce that has been created from the wine, stock and chicken juices into a blender and whiz to a sauce consistency, adding a little of the hot stock that you have kept back, if it is too thick.
Slice the chicken and spoon the sauce over the top.
Enjoy every single moment with your family and friends,and don't stress about the cooking; celebrate conviviality! After all, this is what Christmas is all about."
Giorgio Locatelli, December 2020