It's the perfect time of the year for dining al fresco and with the new summer menus introduced by all the Elysium restaurants, we promise your summer dining experience will be incomparable.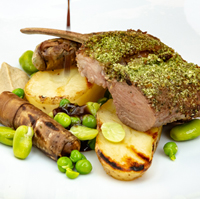 There's no better way to take advantage of great weather than to dine al fresco, enjoying food and drink under the sun or starry sky. And few places are better for dining al fresco than the Elysium Hotel in Paphos. Dining is a key element of the Elysium experience. Five gourmet restaurants showcase a variety of cuisines, in­cluding Italian, Japanese, and Cypriot. Each restaurant reflects our Executive Chef 's passion for farm-to-table dining, with local ingredients used daily in bringing his culinary creations to life.

This summer season inspired our new Executive Chef, Michael Lipsombe, and our culinary team to come up with several new, delicious dishes, upgrading the menus of all of our outlets. Get ready to enjoy a variety of mouth-watering delicacies, which combine our chefs' imagination with fresh local products. A new culinary experience awaits you at the Elysium this summer.